Mission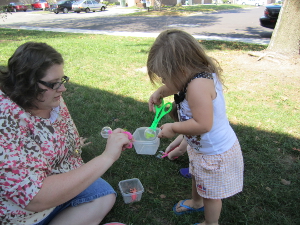 Our mission is to enhance the quality of life by providing a comprehensive and dynamic program for children and families, to empower and encourage movement towards self-sufficiency and independence, and to incorporate Head Start Core Values in all of our lives and in the lives of those we touch. We value children, families, and our professional staff.
We foster creativity and innovation to make a difference in the lives of children and families we serve, as together we learn and grow each day.
Early Head Start
Early Head Start (EHS) was established in 1995 as a program for families with infants and toddlers and pregnant women that met certain income guidelines. In creating EHS, the Congress acted upon evidence from research and practice which indicates that the time from conception to age three is critical for human development and that for infants and toddlers to develop optimally, they must have healthy beginnings and the continuity of responsive and caring relationships.
Fayette County Early Head Start is a program to help parents use their home environment to provide rich learning opportunities and enhance their child's development. We serve expectant mothers and families with children 0 to 3. Visits take place in the families' home once a week for 90 minutes each. Your home visitor will: provide activities that strengthen parent-child relationships and help develop and enhance skills they already have; identify learning opportunities in the home environment; provide a comprehensive program to children and families which promote sound physical, social, and emotional growth; provide information to pregnant mothers on baby's development, nutrition during pregnancy, and breastfeeding; support the attachment between parent and child; you are your child's first and best Teacher; identify early developmental delays; provide activities that are planned using a research based curriculum; link families to community services; provide play groups twice a month for children & parents to socialize, build relationships, and share experiences; provide access to dental office appointments; arrange transportation for doctor visits; and prepare you and your child for the transition to pre-school. Early Head Start has a certified car seat specialist through Safe Kids and interpreter services available for our Spanish families. Services are provided by a Home Visitor that holds a degree in Social Work or Education and have completed training on Ohio's Infant Toddler Guidelines. A Social / Emotional Consultant is available to assist with family and behavioral concerns.
Early Head Start Application 2021
Contact Information
WCH
1400 U.S. Hwy 22
Phone: 740.335.7138
Fax: 740.335.0051
JEFFERSONVILLE
41 Colonial Drive
Phone: 740.426.0051
Fax: 740.335.0051