Faith in Recovery Coalition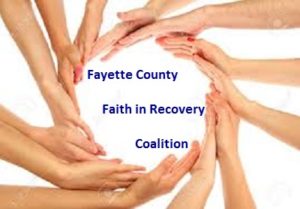 The Faith in Recovery Coalition is a collaborative of government, nonprofit, and faith-based organizations that meets monthly to combat substance abuse in Fayette County. The coalition identifies strategies to decrease substance abuse, promote healthier life styles, and improve the lives of our neighbors battling substance abuse.  Together, we will  ensure that our neighbors can and will recover!
Mission
Our mission is to combat substance abuse in Fayette County through collaborative community development projects to promote a safer, healthier community.
History
The Faith in Recovery Coalition was organized in July 2012 in response to the heroine epidemic in Fayette County.  The group identified the need to bring in a continuum of services to support individual and families in recovery from opioid, heroin, and other addictions.  The group has developed a community needs assessment and identified the need to establish additional treatment and housing options in our community for those recovering from substance abuse.
Coalition Goals
The coalition has prioritized the following projects to address substance abuse in our community:
Detox Facility – A detox facility is designed to medically assist individuals going through withdrawal. While an individuals mind may be ready to focus on their sobriety, the body may take additional time to recover. People in detox facilities give their bodies the opportunity to process left over drugs and return to a sober, successful level of functioning while under the supervision of medical staff. Duration of stays can be variable, but generally run between 4-6 weeks.
Inpatient Treatment Facility – An inpatient treatment facility provides individuals with an opportunity to live with other people who are struggling with drug or alcohol addiction while receiving services to recover from addiction. These facilities are monitored 24/7 and offer intermittent care from medical personnel, support groups, one-on-one counseling, and other personalized, supportive services.  Inpatient treatment typically lasts 3-6 months.
Recovery Housing – Recovery housing is characterized as a safe and healthy living environment that promotes abstinence from alcohol and other drugs and enhances participation and retention in traditional clinical treatment. Residents benefit from peer support and accountability, and gain valuable relapse prevention, case management and employment skills training as they transition to living independently and productively in the community. Typical program stays lasts 6-12 months, depending on resident's needs.
Documents
Inventory of Substance Abuse Resources
Contact Information
Contact Tina Scharenberg @ 740-335-7282 ext. 193
CAC Staff Support to the Faith in Recovery Coalition