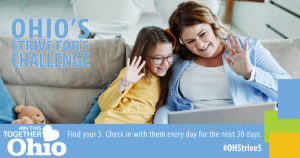 You may have heard of "Strive for Five" earlier this year. Developed by the New York Coalition for Behavioral Health and brought to Ohio by the Mental Health, Addiction and Recovery Services Board of Lorain County.The initiative was introduced in April of 2020 by the State of Ohio to support individuals and families coping with feelings of stress, anxiety, and isolation by connecting with others.
This campaign was revealed by Ohio Department of Mental Health and Addiction Services (OhioMHAS) to encourage all Ohioans to reach out, connect and comfort each other while working through the COVID-19 crisis and physical distancing. The challenge is simple: individuals find five people in their life who they will check-in with via phone, email, chat, video, etc., during each of the next 30-days. There have been a variety of social media messages and other campaign resources at:  OHSTRIVE5.org, or by sending an email request to : [email protected].
Lori Criss, OhioMHAS Director, explains, "The people we serve, in recovery from mental health or substance use related conditions, especially understand the great and unique power of personal peer to peer support and connection to others at times of crisis to allay the anxiety and fears we all face at this time."
Elaine Georgas, interim director, Mental Health, Addiction and Recovery Services (MHARS) Board of Lorain County noted, "Particularly for persons who are alone, in recover or just uncertain, each of us reaching out to five people every day for the next 30 days will make us stronger and resilient. I am proud to join our State partners in launching Ohio Strive for 5."
The following are suggestions to assist you in the challenge:
There is no script. All  you need to do is be present with each person and ask them how they are doing.
The key is to show empathy:

I'm in it with you.
I'm no there to fix problems, just to listen, talk and #bethere
I'm not here to feel it for you. I am here to feel with you and let you know that you are not alone.

If you sense the person you are checking on is struggling in some aspect of life, share the valuable, free resources Ohio has to offer, such as:

The COVID CareLine, which is a new, toll-free, confidential emotional support call service available 24/7 by calling 1-800-720-9616.
The Crisis Text Line, which is available by texting "4hope" to 741741 or through facebook.com/crisistextline. It is free, fast and confidential. It can be very effective when someone is experiencing emotional distress and needs to connect with a trained crisis counselor.
The Disaster Distress Helpline can be reached at 1-800-985-5990. This is a 24/7 national hotline dedicated to providing immediate crisis counseling for people who are experiencing emotional distress related or any natural or human-caused disaster.  This toll-free, multilingual, and confidential crisis support service is available to all residents in the Untied States and its territories.
The multitude of other resources available on the Ohio Department of Mental Health and Addiction Services' website at mha.ohio.gov by clicking on the slide on says "Managing coronavirus-related stress."

Social distancing, quarantine and isolation, while needed to flatten the curve of viral exposure, unfortunately also have the effect of reducing in-person contact. And we know from research, social connectedness is an integral component to good overall health – physical and mental!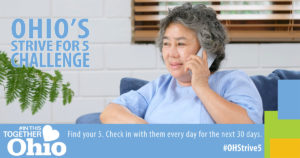 When choosing the five people you would like to reach out to, please consider those who may need a little extra support now:

Those who may be more isolated than others because they live alone.
Those who cope every day with a mental health concern, like depression or anxiety.
Those who are in recovery from a substance use disorder.
Those who have recently had major stressors in their lives, like the loss of a loved one, job or relationship.
We encourage everyone in the community to challenge your friends, family members, colleagues and any other groups to which you belong to join the Ohio Strive for Five. You may even adapt the challenge specifically for your neighborhood, street or social media group. Find the materials you need to do this at http://OHStrive5.org.